Bio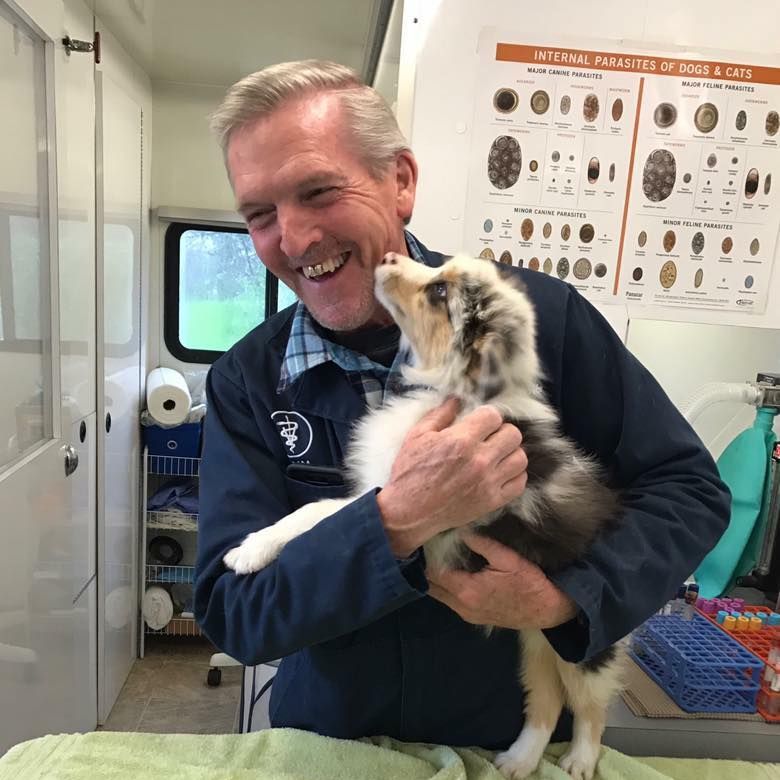 About Dr. Daniel Parks
EDUCATION & EXPERIENCE
Graduated from Cocke County High School in Newport, Tennessee
Graduated with a Bachelor of Science in Agriculture/Animal Science – University of Tennessee
DVM – University of Tennessee College of Veterinary Medicine
40 years practice experience in mixed (large and small) animal practice
22 years in mobile practice serving Hamblen and surrounding counties
Mobile practice offers veterinary services from the convenience of the clients home. Clients include elderly pet owners who find it more difficult transporting pets to a conventional practice, homes with multiple pets that find it easier to have a home visit instead of making multiple trips to a clinic, pet owners with large pets that are more difficult to transport, and clients that just like the convenience of having veterinary services provided at home.
Benefits include avoiding busy waiting rooms with other dogs and cats, avoiding potential exposure to contagious illnesses that could affect your dog or cat, and having the assurance that your pet doesn't have to endure the anxiety and stress of going to a strange and unfamiliar place.
PERSONAL INFORMATION
Wife Mitzi, married 25 years.
Son Joshua, step-daughters Tammy & Christy, 8 grandchildren Grandson, Dylan and wife Nicole - Dylan graduated with a degree in Ag Business from Virginia Tech. 
Operated Aspen Grove Jerseys, a dairy farm with registered Jersey dairy cattle until 2014. Currently have a small farm and still have a few of our favorite Jersey cows, including Liberty Bell, who is now 13 years old, and Frolic and Fawn, 2 of our show cows. Son Joshua and grandson Dylan grew up helping on the farm and showing Jersey cows locally as well at state and national shows. Now have Alison and Lauren Graves showing our Jerseys as part of their 4-H project. 
Also have a small flock of about 20 chickens which provide fresh eggs for our home and for friends. I operate a small apiary of 20 hives of honeybees. Pets include a house cat which is a rag doll cat named Pretty Boy, an Australian Shepherd, Barkley, who rides shotgun when going to the feed store, and 3 Great Pyrenees, Chloe, Bailey, and Hank, who patrol the farm to make sure all of the livestock are safe from predators. 
I became involved in mission work in 2003, making my first of many trips to the Venezuelan Andes Mountains over the next 10 years, working with The Cross Ministry. I had the privilege of serving with team members from many different churches during the years of work in Venezuela.  Initially our focus was building churches in the villages of the Venezuelan Andes. Over time our mission work shifted to holding medical clinics in the villages of the Andes Mountains, providing much needed medical care as a part of the ministry of the local churches there.  Our mission work there ended when the economic and political conditions of Venezuela deteriorated making it unsafe for Americans to travel to Venezuela.  By that time our church had begun mission work in Palin, Guatemala, which includes the construction of a school to provide education for children in the village and a 700-foot deep well to provide fresh safe drinking water for the village. We also work with a mission program in Guatemala, Clubhouse Guatemala, which has mission projects in many areas of the country. 
Jeremiah 29:11 says, "For I know the plans I have for you,"declares the Lord, "plans to prosper you and not to harm you, plans to give you hope and a future."  As a believer and follower of Christ, my prayer and my goal each day is to allow God to guide my steps so that His plans for my life will be brought to completion. In Matthew 28: 19-20 we are told "Therefore go and make disciples of all nations, baptizing them in the name of the Father and of the Son and of the Holy Spirit, and teaching them to obey everything I have commanded you." This is a command given to all who are believers, that we share the good news of salvation both here at home as well as in other places as we have opportunity. Fulfillment of this command should be the central point of everything that we do as we go about living our lives.  
In many places in scriptures we are commanded to love each other. Jesus said that the way others would know that we are His disciples is if we love one another.  An example of unselfish love given to us in scriptures is found in Mark 14: 3-9, which is one of my favorites. Mary, going against tradition and inviting ridicule and criticism, anointed Jesus with a jar of very expensive perfume. She did that as an act of love that Jesus called a beautiful thing, and He commended her for it. It is an example that I try to follow in my life each day.